DispatchTrack is the Complete Customer Delivery Experience and Last Mile Logistics. Through DispatchTrack you can elevate the customer delivery experience while optimizing your last mile logistics with AI-powered routing, a mobile app drivers love, and flexible customer service tools. With the PerformNOW integration you have access to the full path of your customers journey so that you can provide the highest level of Customer eXperience.

Understand Your Foot Traffic!
If you are a large-ticket, brick-and-mortar retailer, your sales team's performance is critical to the success of your business. As digital marketing and human selling methods converge, you need to understand what's happening every step of your customer journey, especially the moment they walk through your door.
Tools2Win
Tools2Win is a service partner of PerformNOW. They provide a powerful suite of Merchandising, Inventory, Advertising, and Sales tools designed to deliver the whole story on business performance. Tools turns Point of Sale (POS) data into actionable information. As an integration partner, PerformNOW can give you access to powerful data. The data enables predefined, triggered, and automated messages to your customers and salesforce. This helps your organization continually enhance your customer eXperience.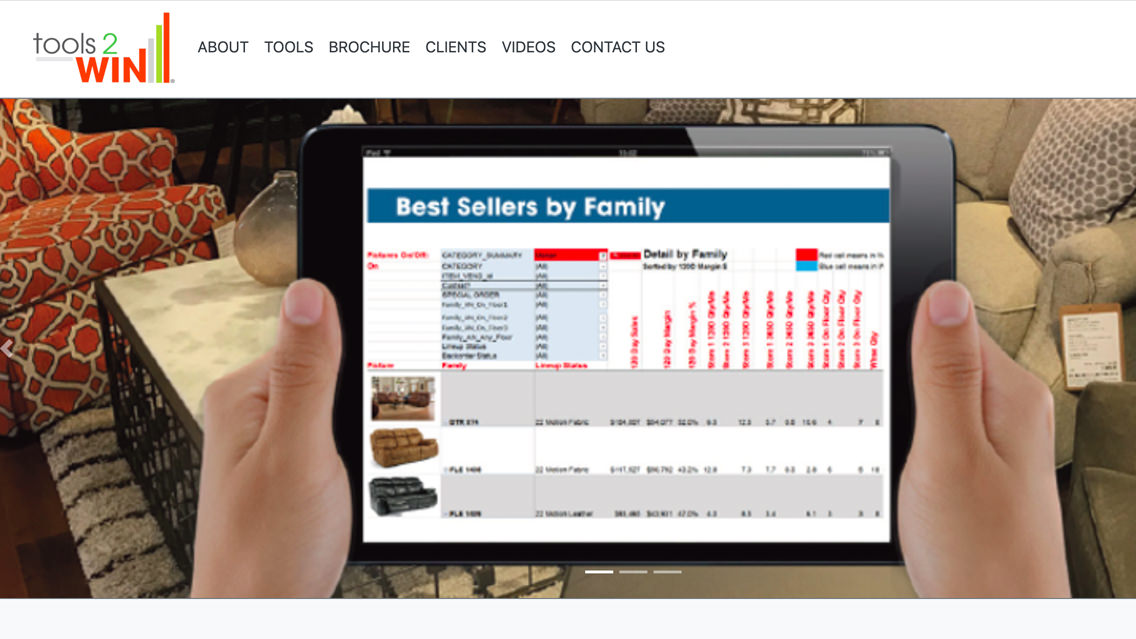 FurnitureDealer.net

FURNITUREDEALER.NET PROVIDES FULL SERVICE INTERNET SOLUTIONS THAT HELP INDEPENDENT BRICK AND MORTAR FURNITURE RETAILERS LEVERAGE THE INTERNET TO GROW THEIR BUSINESSES. THEY WORK WITH MANY OF THE LARGEST AND MOST SUCCESSFUL INDEPENDENT FURNITURE RETAILERS IN NORTH AMERICA, AS WELL AS THE INDUSTRY'S LEADING SUPPLIERS.
Furniture Industry Software Providers
It is our goal to help you get more power out of all your software providers. Our API enables direct integration with your customer engaging software platforms. Your POS and ERP systems play an important role in helping you manage your day-to-day operations. Valuable historical information is also stored there. Through integration with PerformNOW, you can avoid double-entry and communicate more effectively with customers. Whether it be receiving notification, open order follow-up, thank you messages, delivery scheduling, service, or re-marketing, you will be able to communicate with your customers faster and better. Other examples of furniture software integrations may include lead generation tools, website providers, delivery routing, traffic counting, and in-store digital kiosks.